Field School   |   Research   |   Student Narratives | APPLY

The Medieval Bioarchaeology Field Program in Żelewo, Poland is a Summer field school run jointly through Cal Poly Humboldt and the Slavia Foundation. It is a unique opportunity to excavate and analyze human remains from a medieval cemetery as part of a salvage archaeology expedition. Salvage archaeology happens when a site is at risk due to factors such as erosion or developments and thus needs to be mitigated.
The field school takes place in the beautiful countryside village of Żelewo in northern Poland, about 10 miles south of the Baltic Sea. The cemetery site at Żelewo dates back to the 13th-15th Century and is now being explored as part of a salvage archaeological project due to intensive agriculture in the region. So far, 22 Christian rite burials have been revealed, but little is known about the rest of the cemetery. This site is expected to reveal numerous well-preserved burials providing an excellent opportunity for real hands-on experience analyzing remains. This is an active research site, and students participate directly in the research.
This program is an intensive and rewarding experience. Students work side-by-side with archaeologists and osteologists to locate and excavate burials – they learn field methods such as leveling, revealing grave shape, excavation, and mapping. In the lab, students gain skills in human osteology and pathology by analyzing remains and producing biological profiles of the individuals. Students also experience Polish culture and history firsthand by interacting with the community and visiting historical sites such as castles and churches, while living in a country that has long been a crossroads of central Europe.

Courses/Units
ANTH 339, Bioarchaeology at Żelewo, Poland

(3 units). This is the course students take in the summer as part of the program. All work for the course will be integrated with the program.

ANTH 307, Medieval Europe

(3 units). This is an optional additional course that students can choose to take to learn more about the general region and time period. It will be offered in an asynchronous online format during the summer.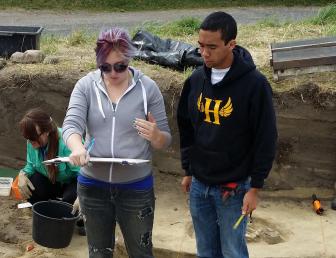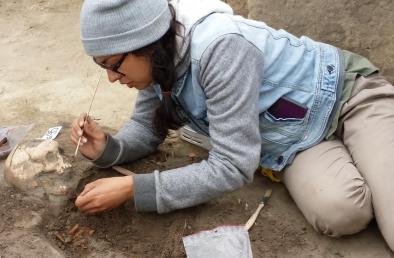 Read student narratives from earlier seasons at our previous nearby site
Dates: June 26 - July 19, 2023
By early Spring 2023 (e.g., ~ January): Order or update your passport.

June 24-25: Recommended arrival in Poland. At least one full day ahead is recommended - many students opt to arrive a few days ahead and explore the surrounding area.

June 26: Bus picks students up in Gdasnk Poland (location TBA, typically near Gdańsk Lech Wałęsa Airport - GDN) in the morning, typically around 9:00am. Students should plan arrival/travel to arrive in Poland prior to this date.
June 26 - July 19: Field and lab work at

Żelewo

, and travel to nearby areas
July 19: Bus returns students to Gdańsk Lech Wałęsa Airport (GDN). Students should plan arrival/travel to not leave Gdasnk prior to 1pm on July 19.
Location / Site Information

The field school takes place in the beautiful countryside village of Żelewo in northern Poland. Żelewo is a small village on the shore of Lake Miedwie, about 7 miles from the large city of Wejherowo, about 10 miles south of the Baltic Sea, and 29 miles NW of the regional capital Gdańsk.

At

Żelewo

, students stay in classrooms (at a local school) that have been adapted as dormitories. There are restroom and shower facilities. Cell phone reception at the school is generally good. There may be intermittent internet/Wi-Fi.
Meals are served at in the morning, afternoon, and evening. We will eat healthy Polish fare, and vegetarian options are available for all meals. Water is drinkable from the tap.
During the program, we usually tour all cities in the immediate area with at least one longer trip.
Budget
Program fee (preliminary): $3,500

. This covers in-Poland program costs, including travel from Gdansk to the site and back, lodging at the site, and meals during the program. Students are responsible for additional costs for any choice travel, outings, and snacks, etc... before/during/after the program.

Tuition: $110 per unit for current Humboldt students ($220 otherwise)

. You can choose just 3 units (ANTH 339), or 3 additional units (ANTH 307). *It is possible to go for 0 units with instuctor permission.

International health insurance (preliminary): $85

 - students enroll in a CSU-wide provider.

Travel to and from Poland: Cost varies

: Students are responsible for their own travel to and from Gdansk, Poland. Cost varies depending on time of purchase and travel choices. Flights are generally least expensive if purchased in advance and if flying from a major airport (e.g., SFO). Flying form the East Coast is generally less expensive. Some students choose to fly to another location in Europe and take a train to Gdansk.
Looking for scholarships? Check out:
Qualifications/Application to Attend

An application is required. Please see the Program Application Page (Priority application deadline is Feb 1, 2023 - you are encouraged to apply early). After Feb 1, applications will be reviewed on a rolling basis as spots are open.
There are no required prerequisite coursework or major for this program. Students with any major/background may attend if in good academic standing. This program is open to non-Humboldt students.
Contact Information
Interested students are encouarged to contact us if you have any questions - we are happy to help!
Ariel Gruenthal-Rankin, PhD
Humboldt Program Director, Osteology Lab
Department of Anthropology, Cal Poly Humboldt
ariel.gruenthal@humboldt.edu
Marissa Ramsier, PhD
Humboldt Program Director, Osteology Lab
Department of Anthropology, Cal Poly Humboldt
marissa.ramsier@humboldt.edu
Katherine Gaddis, MA, Program Faculty, Osteology Lab
Department of Anthropology, Cal Poly Humboldt
katherine.gaddis@humboldt.edu