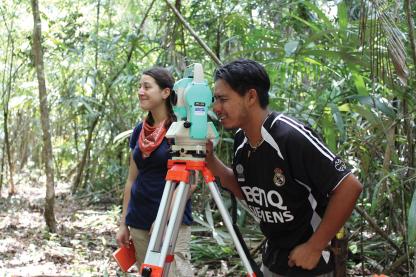 Archaeology studies past and present cultures and cultural heritage preservation by unearthing, documenting, and analyzing materials.
Archaeologists study the things that people leave behind, including artifacts such as tools and vessels, features such as hearths and buildings, and ecofacts such as animal bones and even tiny remnants of pollen. Think of the items in your own home that may still be around in a few hundred or even thousands of years! Archaeologists study material remains in context, and use that information to ascertain things about the culture that left them behind. What kind of food did they eat? What kind of tools did they make, and how did they make them? What sort of structures did they build? What did their artwork and symbols mean? Archaeologists study the material remains of cultures from millions of years ago to the recent past.
Courses in Archaeology
ANTH 105: Archaeology & World Prehistory
ANTH 307: World Heritage & Archaeology
ANTH 350: Method & Theory in Archaeology
ANTH 351: Artifact Analysis
ANTH 352: Experimental Archaeology
ANTH 353: Archaeology of Warfare
ANTH 354/654: Cultural Resources Management
ANTH 357: Field Archaeology
ANTH 358: Archaeology Lab
ANTH 359: Special Topics in Archaeology
ANTH 394: Archaeology of North America Regions
ANTH 395: Mesoamerican Archaeology
ANTH 556: Variable Topics in Archaeology
See the catalog for course descriptions
In the archaeology research laboratory, students receive a wide range of training in materials, geospatial, and zooarchaeological analysis. Student can immerse themselves in on-going archaeological projects. Current topics include historical ecology and human impacts on marine and terrestrial ecosystems, zooarchaeological analysis of shell midden deposits, marine resource utilization, and historic archaeology and migration.
The field school program involves survey, excavation at several Maya sites, and laboratory experience working directly with excavated Maya artifacts. Field techniques, lectures on Maya culture history and instruction concerning artifact analysis are provided during each session.
The cultural resources facility (CRF)
offers students hands-on training opportunities in cultural resources management and heritage preservation, a major career area in applied archaeology. 
Students work with professional archaeologists, architectural historians, and other specialists, while receiving training project inventory, site mapping, excavation, historical research, identification and management of cultural resources, and navigating federal, state, and local historic preservation laws and regulations. 
Simulated Archaeology Site
The Simulated archaeological site (SIM site) is an on-campus site where students practice archaeological methods.