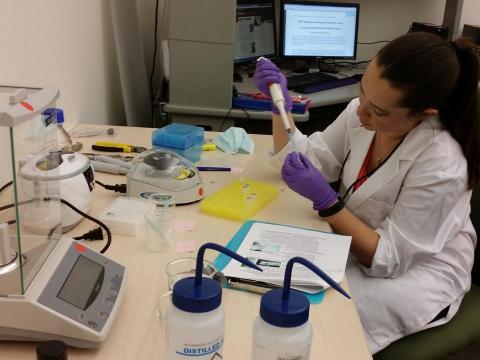 The Biological Anthropology Research Center (Bioanth Lab) is dedicated to providing quality training and research opportunities in biological anthropology for HSU students. At the lab, student research assistants learn methods and engage in research in evolutionary and applied anthropology by working both independently (as project leads and in groups) and with faculty and other researchers. The lab and its resources are also integrated into biological anthropology courses.
Students and staff are dedicated to outreach and collaboration - we work with students and faculty from other departments and institutions as well as consult on forensics cases to assist local agencies (see
forensics services and resources
).
Some areas of current interest include:
Comparative anatomy & physiology
Evolutionary ecology
Bioarchaeology & forensics
Taphonomy and zooarchaeology
Stable isotope analysis to address diet and migration
DNA barcoding to identify species
Evolutionary medicine and nutrition
Primate behavior, ecology & conservation
Bioacoustics and communication
Resources:
Fume hood
Microscribe
Osteometric boards and calipers
Analytical balance
Zooarchaeological collection
Fingerprinting kits
Stable isotope prep equipment
PCR thermocycler & DNA barcoding equipment
Acoustics recording equipment and analysis software
General biological and chemistry equipment and supplies
Get Involved:
There are several ways to be involved in the lab and bioanth at HSU:
Take courses in bioanth, especially Anth 330: Method & Theory in Bio Anth, and Anth 485: Bio Anth Lab.
Apply to be a research assistant - pick up an application in the Anthropology Department office (BSS 506) and contact us. Concurrent enrollment in Anth 485: Bio Anth Lab is required during semesters that the course is offered.
Volunteer to assist with ongoing student and faculty projects
Staff:
Contact Information:
Biological Anthropology Research Center, BSS 233
Humboldt State University
1 Harpst Street
Arcata, CA 95521
Phone: 707.826.4330