The isotope prep lab is a space dedicated to the preparation of stable isotope samples for analysis. It is integrated into the biological anthropology research center and archaeology research lab.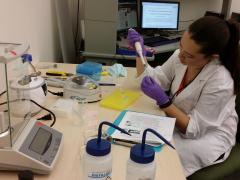 Resources:
Externally vented fume hood


Dremel work stations

Analytical balance

Glove box

Centrifuges

Heat blocks

Vortexes

Pipettors

Vaccum pump aspirator

Glassware and tubes

Desiccator cabinet
Get Involved:
There are several ways to be involved in the lab:
Enroll in Anth 482 Anthropology Internship and apply to work in the lab.
Volunteer to assist with ongoing student and faculty projects.
Contact Information:
Biological Anthropology Research Center, BSS 135
Cal Poly Humboldt
1 Harpst Street
Arcata, CA 95521